Exhibition Information
Exhibition Location and Date
The exhibition will be held at the China National Convention Center on June 5-9, 2011.
Exhibition Timetable

| | | |
| --- | --- | --- |
| June 5, 2011 | 08:30-17:00 | Exhibition setup |
| June 6-9, 2011 | 08:30-17:00 | Exhibition |
| June 9, 2011 | 13:00 | Exhibition removal |
Exhibition Participant Cost

| | |
| --- | --- |
| Floor Space Only | ¥1350.00 (US$200)/sq.m (minimum 9sq.m) |
| Standard Booth (3mX3m) | ¥13500.00 (US$2000) |
Exhibit space will be assigned on a first-come, first-serve basis upon re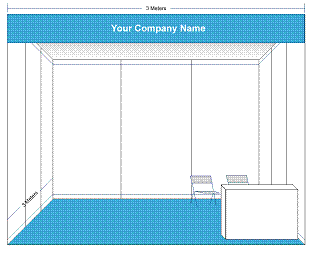 ceipt of the completed Exhibit Booth Reservation Form and payment. Confirmation will be sent to applicants by email after receipt of the full exhibition fee.
Prospective View of Shell Scheme
A shell scheme will include:
• Fascia board with company name in English
• Side and back walls
• Carpeting
• One information counter and two folding chairs
• One electricity outlet: 5 Amp/220V
• Basic lighting
• Booth cleaning service
• Company introduction in program (Limit 100 words)
• One set of conference kit
• One set of four days working lunches

Transducers11 Exhibition Booth Reservations Form (.doc, 31KB)

Transducers11 Exhibitor Hotel Reservations Form (.doc, 39KB)

Hotel Information
Exhibition Payment
The Application Form should be submitted with payment to CICCST by one of the following methods:
1. Bank Transfer
Beneficiary: CICCST
Beneficiary Bank: Bank of China, Head Office
Account No.: 00038018091014
Swift Code: BKCHCNBJ
Address: 1 Fuxingmen Nei Dajie, Beijing 100818, China
Please do write a clear indication of the name of the remitter and the purpose of the remittance in the message box.
Sample: XXX Company / Exhibition / Transducers11
2. Credit Card
Only Master, Visa, and American Express will be accepted. Please complete and return the signed Exhibition Reservation Form via Fax or e-mail to:
Transducers11 PEO
Attn: Mr. WANG Yu Fax: +86-10-62174126 E-mail: [email protected]
Exhibition Management
The China International Conference Center for Science and Technology (CICCST) is a non-profit, nongovernment organization under the leadership of the China Association for Science and Technology (CAST). Founded in 1985, CICCST is the first professional international conference and exhibition organizer in China. The Local Organizing Committee has authorized the PEO (Professional Exhibition Organizer) of CICCST to organize the Exhibition.
For questions about exhibition, please contact:
Mr. Yu WANG
PEO of Transducers 11
Rm. 6042,Unit 7, Suyuan Apartment, Beijing Friendship Hotel, No.1 Zhongguanchun Nandajie, Beijing 100873, China
Fax: +86-10-62174126 E-mail: [email protected]
For questions about shipment, please contact:
Oriental K-Trans Int'l Logistics(Beijing) Co.,Ltd
No.F05-3C,Fenglinlvzhou,Kexueyuan Nanli,Datun Road,Chaoyang District,Beijing,100101,China
Tel:86-10-65910289,65910265 Fax:86-10-65910280
Ctc:Mr Lobby Bi & Mr Zhongming
E-mail:[email protected] [email protected]