Guidance of Arrival
Dear Participant,
Thank you for your participation in Transducers' 11!
The following information will be very helpful for you when you arrive in Beijing. Please read it seriously and carefully. We strongly recommend you to print this page out and take it with you.
1. About Transportation
Taking taxi from Beijing Capital International Airport to China National Convention Center (conference venue) is recommended. More details about taxi please refer to the following web page:
http://en.bcia.com.cn/traffic/taxi/index.shtml

The taxi note shown below

2. Checking In at Hotel (if you have ever booked room, please read the following content. If you have no room reservation, please go to the next part)
When you arrive in Beijing Capital International Airport and decide to take taxi, please show the following note to the taxi driver:

If you have booked a room in China National Convention Center Grand Hotel


If you have booked a room in Yayuncun Hotel

When you arrive in the hotel, please go to the reception desk and tell the receptionist your name, they will arrange a room for you.
3. Registration after Arrival (if you have ever booked room in conference hotel, we strongly recommend you check-in at hotel first. More details please refer to the previous part.)
Registration Desk
A Registration Desk will be set-up in the Lobby of China National Convention Center (CNCC) during the following days and times:                                            
| | |
| --- | --- |
| June 4, Saturday    | 14:00 – 18:00 |
| June 5, Sunday   | 07:30 – 20:00 |
| June 6, Monday – June 8, Wednesday  | 08:30 – 18:00 |
| June 9, Thursday | 08:30 – 12:00 |
Any inquiries about the registration, social events, tours, etc. may be answered by approaching any of the staff at the registration desk. Participants may pick up their Conference kits, badges and invitations/coupons at the registration desk.
Registration Fees
| | |
| --- | --- |
| | On-site Registration |
| IEEE-Member  | RMB5780 |
| IEEE Non-Member  | RMB6460 |
| Student    | RMB5100 |
| One Day  | RMB3200 |
| Accompanying Person | RMB1260 |
The Flow of Registration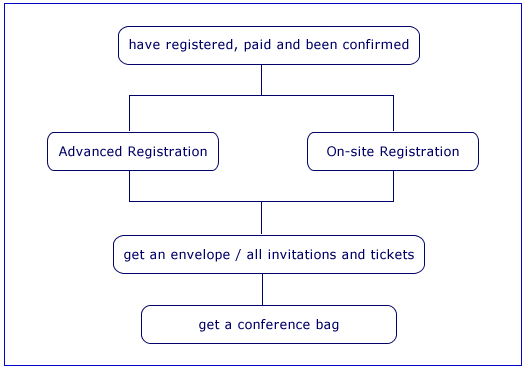 *There will be 3 counters for overseas participant registration.
Advanced Registration
Participants who have registered, paid registration fee and have been confirmed by Transducers' 11 Registration Coordinator register at this counter.
If you have the Payment Confirmation Letter, please show it to the staff, it is the best way to register. If you don't have the letter, please use your name to find your Registration No. in the name list and tell the staff
On-site Registration
Please register at the Counter under the following circumstances:
Participants who registered and paid the registration fee, but the payment was not confirmed.
Participants who registered but not paid the registration fee before the conference.
Participants who register on-site.
Please pay the registration fee by cash or credit card (Visa, Master, and American Express). Personal checks and travelers' checks are not accepted.
Get an envelope with the following items inside:
Name Badge
Receipt
Working Lunch Coupon
Welcome Reception Invitation
Evening Reception Invitation
Banquet Invitation (if booked and paid before)
Conference Kit Pick-up Ticket
4. Relative Link
Final Program http://www.transducers11-beijing.org/Final%20Program.pdf